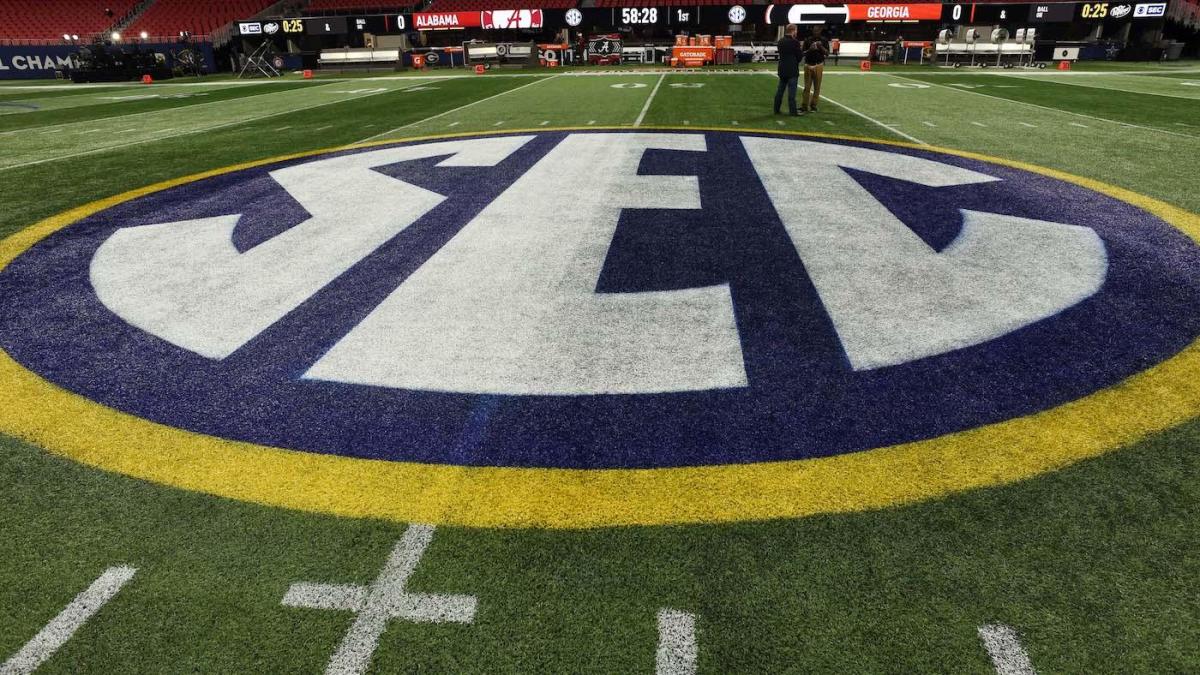 Verify out the total 2022 soccer schedules for all 14 SEC teams
USATSI
The SEC launched its 2022 college soccer schedules on Tuesday, and they come by quite a lot of sharp matchups. Florida and Texas A&M met final one year in College Plot, Texas, in an rapid classic, and that game may be creep abet in 2022 inner what's clear to be a raucous Kyle Field.
That game will happen on Nov. 5 … the an analogous day as the competition game between Alabama and LSU in Baton Rouge, Louisiana. 
The season kicks off with a bang in Week 1 with Georgia taking on Oregon within the Chick-fil-A Kickoff Sport in a battle of two teams at this time ranked No. 2 and No. 3 respectively on Sept. 3 and LSU squaring off with Florida Relate in Unique Orleans on Sunday, Sept. 4. Both video games must present a correct gauge at not totally the place the Bulldogs and Tigers stand headed into the season, however how the conference in most cases stands up against the Pac-12 and ACC, respectively.
There are a pair of attention-grabbing functions to remove a peep at. Auburn will play its first five video games at Jordan-Hare Stadium earlier than having abet-to-abet avenue video games at LSU and Ole Omit, respectively. Florida can come by four of its final five house video games away from The Swamp, alongside side the neutral-map competition game with SEC East foe Georgia. The SEC can come by a Week 0 game for the 2nd time in four years when Vanderbilt travels to the islands to remove on Hawaii. Miami and Florida squared off in Orlando in Week 0 in 2019. 
The winners of the East and West divisions will play within the SEC Championship Sport in Mercedes-Benz Stadium in Atlanta on Saturday, Dec. 3.
Catch a peep on the total time desk below.
2022 SEC soccer time desk
| Alabama | Opponent |
| --- | --- |
| Sept. 3 | Utah Relate |
| Sept. 10 | at Texas |
| Sept. 17 | ULM |
| Sept. 24 | Vanderbilt |
| Oct. 1 | at Arkansas |
| Oct. 8 | Texas A&M |
| Oct. 15 | at Tennessee |
| Oct. 22 | Mississippi Relate |
| Oct. 29 | OPEN DATE |
| Nov. 5 | at LSU |
| Nov. 12 | at Ole Omit |
| Nov. 19 | Austin Peay |
| Nov. 26 | Auburn |
| Arkansas | Opponent |
| Sept. 3 | Cincinnati |
| Sept. 10 | South Carolina |
| Sept. 17 | Missouri Relate |
| Sept. 24 | vs. Texas A&M (AT&T Stadium, Arlington Texas) |
| Oct. 1 | Alabama |
| Oct. 8 | at Mississippi Relate |
| Oct. 15 | at BYU |
| Oct. 22 | OPEN DATE |
| Oct. 29 | at Auburn |
| Nov. 5 | Liberty |
| Nov. 12 | LSU |
| Nov. 19 | Ole Omit |
| Nov. 26 | at Missouri |
| Auburn | Opponent |
| Sept. 3 | Mercer |
| Sept. 10 | San Jose Relate |
| Sept. 17 | Penn Relate |
| Sept. 24 | Missouri |
| Oct. 1 | LSU |
| Oct. 8 | at Georgia |
| Oct. 15 | at Ole Omit |
| Oct. 22 | OPEN DATE |
| Oct. 29 | Arkansas |
| Nov. 5 | at Mississippi Relate |
| Nov. 12 | Texas A&M |
| Nov. 19 | WKU |
| Nov. 26 | at Alabama |
| Florida | Opponent |
| Sept. 3 | Utah |
| Sept. 10 | Kentucky |
| Sept. 17 | USF |
| Sept. 24 | at Tennessee |
| Oct. 1 | Eastern Washington |
| Oct. 8 | Missouri |
| Oct. 15 | LSU |
| Oct. 22 | OPEN DATE |
| Oct. 29 | vs. Georgia (TIAA Bank Field, Jacksonville) |
| Nov. 5 | at Texas A&M |
| Nov. 12 | South Carolina |
| Nov. 19 | at Vanderbilt |
| Nov. 26 | at Florida Relate |
| Georgia | Opponent |
| Sept. 3 | vs. Oregon (Mercedes-Benz Stadium, Atlanta) |
| Sept. 10 | Samford |
| Sept. 17 | at South Carolina |
| Sept. 24 | Kent Relate |
| Oct. 1 | at Missouri |
| Oct. 8 | Auburn |
| Oct. 15 | Vanderbilt |
| Oct. 22 | OPEN DATE |
| Oct. 29 | vs. Florida (TIAA Bank Field, Jacksonville) |
| Nov. 5 | Tennessee |
| Nov. 12 | at Mississippi Relate |
| Nov. 19 | at Kentucky |
| Nov. 26 | Georgia Tech |
| Kentucky | Opponent |
| Sept. 3 | Miami (Ohio) |
| Sept. 10 | at Florida |
| Sept. 17 | Youngstown Relate |
| Sept. 24 | Northern Illinois |
| Oct. 1 | at Ole Omit |
| Oct. 8 | South Carolina |
| Oct. 15 | Mississippi Relate |
| Oct. 22 | OPEN DATE |
| Oct. 29 | at Tennessee |
| Nov. 5 | at Missouri |
| Nov. 12 | Vanderbilt |
| Nov. 19 | Georgia |
| Nov. 26 | Louisville |
| LSU | Opponent |
| Sept. 4 (Solar.) | vs. Florida Relate (Caesars Superdome in Unique Orleans) |
| Sept. 10 | Southern |
| Sept. 17 | Mississippi Relate |
| Sept. 24 | Unique Mexico |
| Oct. 1 | at Auburn |
| Oct. 8 | Tennessee |
| Oct. 15 | at Florida |
| Oct. 22 | Ole Omit |
| Oct. 29 | OPEN DATE |
| Nov. 5 | Alabama |
| Nov. 12 | at Arkansas |
| Nov. 19 | UAB |
| Nov. 26 | at Texas A&M |
| Mississippi Relate | Opponent |
| Sept. 3 | Memphis |
| Sept. 10 | at Arizona |
| Sept. 17 | at LSU |
| Sept. 24 | Bowling Inexperienced |
| Oct. 1 | Texas A&M |
| Oct. 8 | Arkansas |
| Oct. 15 | at Kentucky |
| Oct. 22 | at Alabama |
| Oct. 29 | OPEN DATE |
| Nov. 5 | Auburn |
| Nov. 12 | Georgia |
| Nov. 19 | ETSU |
| Nov. 24 (Thu,) | at Ole Omit |
| Missouri | Opponent |
| Sept. 3 | at Heart Tennessee |
| Sept. 10 | at Kansas Relate |
| Sept. 17 | Abilene Christian |
| Sept. 24 | at Auburn |
| Oct. 1 | Georgia |
| Oct. 8 | at Florida |
| Oct. 15 | OPEN DATE |
| Oct. 22 | Vanderbilt |
| Oct. 29 | at South Carolina |
| Nov. 5 | Kentucky |
| Nov. 12 | at Tennessee |
| Nov. 19 | Unique Mexico Relate |
| Nov. 26 | Arkansas |
| Ole MIss | Opponent |
| Sept. 3 | Troy |
| Sept. 10 | Central Arkansas |
| Sept. 17 | at Georgia Tech |
| Sept. 24 | Tulsa |
| Oct. 1 | Kentucky |
| Oct. 8 | at Vanderbilt |
| Oct. 15 | Auburn |
| Oct. 22 | at LSU |
| Oct. 29 | at Texas A&M |
| Nov. 5 | OPEN DATE |
| Nov. 12 | Alabama |
| Nov. 19 | at Arkansas |
| Nov. 24 (Thu,) | Mississippi Relate |
| South Carolina | Opponent |
| Sept. 3 | Georgia Relate |
| Sept. 10 | at Arkansas |
| Sept. 17 | Georgia |
| Sept. 24 | Charlotte |
| Oct. 1 | South Carolina Relate |
| Oct. 8 | at Kentucky |
| Oct. 22 | Texas A&M |
| Oct. 29 | Missouri |
| Nov. 5 | at Vanderbilt |
| Nov. 12 | at Florida |
| Nov. 19 | Tennessee |
| Nov. 26 | at Clemson |
| Tennessee | Opponent |
| Sept. 3 | Ball Relate |
| Sept. 10 | at Pitt |
| Sept. 17 | Akron |
| Sept. 24 | Florida |
| Oct. 1 | OPEN DATE |
| Oct. 8 | at LSU |
| Oct. 15 | Alabama |
| Oct. 22 | UT Martin |
| Oct. 29 | Kentucky |
| Nov. 5 | at Georgia |
| Nov. 12 | Missouri |
| Nov. 19 | at South Carolina |
| Nov. 26 | at Vanderbilt |
| Texas A&M | Opponent |
| Sept. 3 | Sam Houston |
| Sept. 10 | Appalachian Relate |
| Sept. 17 | Miami |
| Sept. 24 | vs. Arkansas (AT&T Stadium in Arlington, Texas) |
| Oct. 1 | at Mississippi Relate |
| Oct. 8 | at Alabama |
| Oct. 15 | OPEN DATE |
| Oct. 22 | at South Carolina |
| Oct. 29 | Ole Omit |
| Nov. 5 | Florida |
| Nov. 12 | at Auburn |
| Nov. 19 | UMass |
| Nov. 26 | LSU |
| Vanderbilt | Opponent |
| Aug. 27 | at Hawaii |
| Sept. 3 | Elon |
| Sept. 10 | Wake Woodland |
| Sept. 17 | at Northern Illinois |
| Sept. 24 | at Alabama |
| Oct. 1 | OPEN DATE |
| Oct. 8 | Ole Omit |
| Oct. 15 | at Georgia |
| Oct. 22 | at Missouri |
| Oct. 29 | OPEN DATE |
| Nov. 5 | South Carolina |
| Nov. 12 | at Kentucky |
| Nov. 19 | Florida |
| Nov. 26 | Tennessee |
Dec. 3 — SEC Championship Sport in Mercedes-Benz Stadium in Atlanta